421adventure
Lancée le 21 nov. 2022
770 €
collectés sur 1 700 €
46

% atteint avec

12

participants
Cycling is such a great and unique activity! It gives you freedom and enables you to see the world at the right speed. For us, cycling is much more than just moving, it's a lifestyle!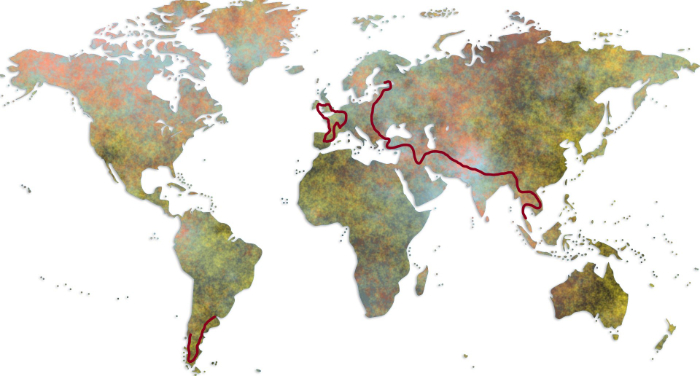 We are cycling for charity since 2018. During this adventure we really want to show people that another way of travelling is possible and allows you to meet people and discover new places. And everything in a sustainable way !
But what we want to do above all is to share our deep belief that bicycles can help make this planet a little bit better. This is why we have decided to use our quest as a way to support 2 organisations.
Summary of our adventure after 2 years on the saddle
In previous campaigns we have already raised 11.000 € and have given this amazing donation to these 2 associations. We are so happy about it and it keeps us motivated to follow the adventure and raise more funds. Now the new target for this Christmas holiday is 1.700 €.
Why 1.700€ ?
Well, this year on Christmas day, it will be 1.700 days that we have started this bicycle adventure, and we would like to celebrate it by fundraising 1.700 € and give it as a Christmas present to these associations.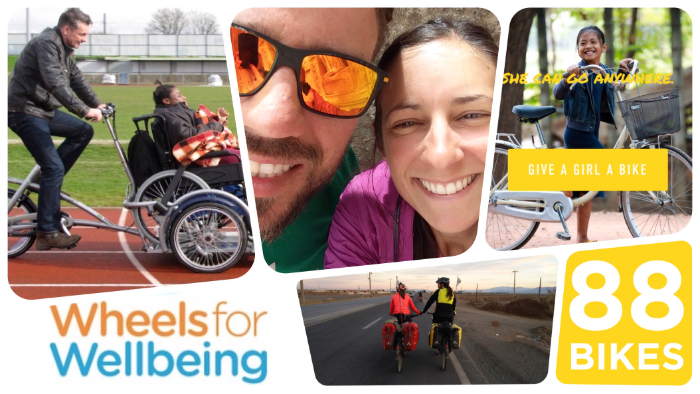 What do these associations fight for ?
88bikes provides bicycles to young women and girls who have been victims of human trafficking in developing countries. They have been triumphantly doing so since 2007 and have successfully donated over six thousand bikes to communities in 17 countries.
Wheels for Wellbeing is an award-winning charity supporting disabled people to enjoy the benefits of cycling. They are also politically active to improve infrastructures, roads, etc. so that people with less mobility can also ride by bike.
Every donation makes a huge change. Here are some examples of where the funds will go;
10€ will cover the expenses of one of the amazing volunteers who help the person with disability.
20€ will pay for one disabled person to learn how to cycle through a special lesson. 
50€ will pay for footplates to help those with difficulty to keep their feet on the pedals
100€ will give a girl a bike so that she can have access to education more easily
500€ will pay for a discovery day where the association takes the cycles out to a group who can't travel to the session
1.000€ will pay for a special side-by-side cycle which allows participants to learn about cycling, steering and braking.
Whatever the amount, everyone can participate in this pot. No need to create an account or register, it's fast, payments are secure, and 100% of the donations will go to the associations.
PLEASE NOTE that this plateform may ask you for some tips during the payment process; these tips are optionnal and that you don't have to pay for them.
And if you prefer you can make your donation by wire transfer (contact us for more info). Y si vives en España, también está la opción de donar por bizum (contáctanos para más detalles).
If you can not participate financially, share this fundraiser around you to the maximum. THANK YOU !
Endowment of 45 bicycles in Nepal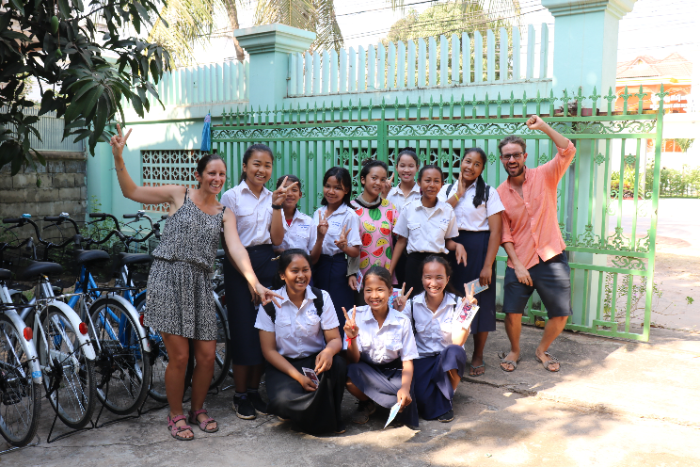 Encore
915 €
à collecter !